Exciting collaborative project
A blue-green collaboration project with two million NOK in support is well under way at Mære agricultural school and Val upper secondary school.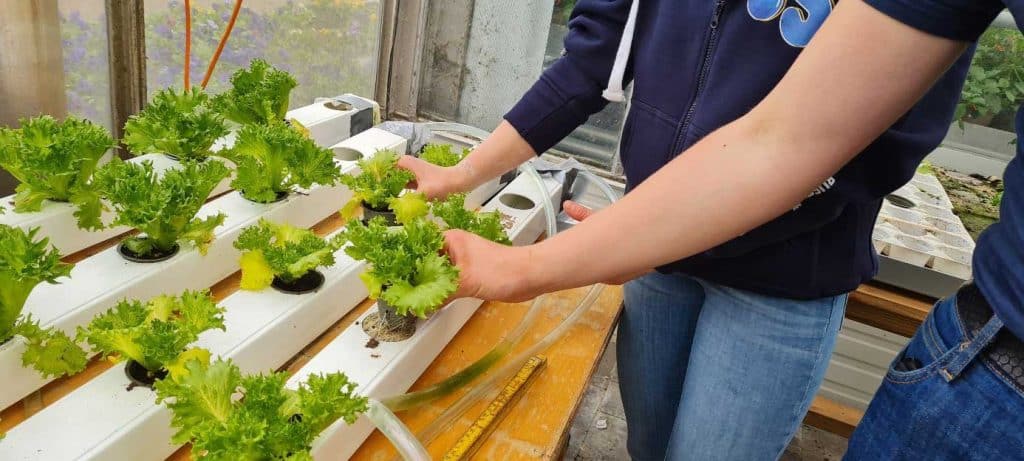 In short, the blue-green project is about a collaboration with Val upper secondary school and Val R&D (Research and development). The project arose in the wake of a rejected EU application.
From the EU to the national budget
Instead of money via the EU, it was money from the national budget. This led to the establishment of a project collaboration with Val upper secondary school in Nærøysund. Among other things, the project looks at which R&D facilities can be offered to business developers as well as research and development environments. In addition, there is a goal to have teaching programs developed within the circular economy and blue-green projects.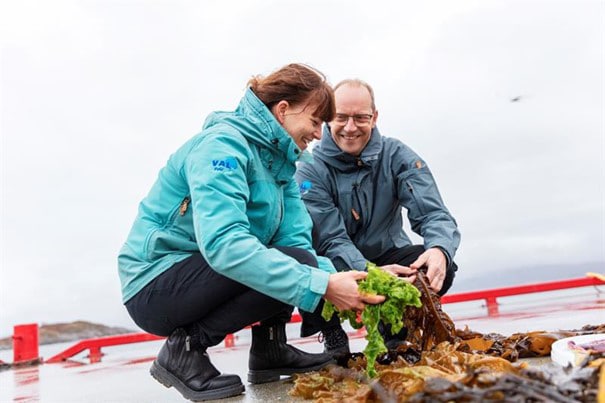 Complete each other
Val upper secondary school says the business world has shown great interest in the collaborative project.
- We have launched three or four concrete attempts where we have managed to connect the business world with school pupils. This is learning by doing, says Halvor Mortensen at Val upper secondary school.
In addition to working on project management and sustainability, Mortensen works a lot with the link between school and business.
He says the schools at Mære and Val complement each other. - We are good at the "blue" with a well-developed education in the green. Then Mære are very good at green, he says.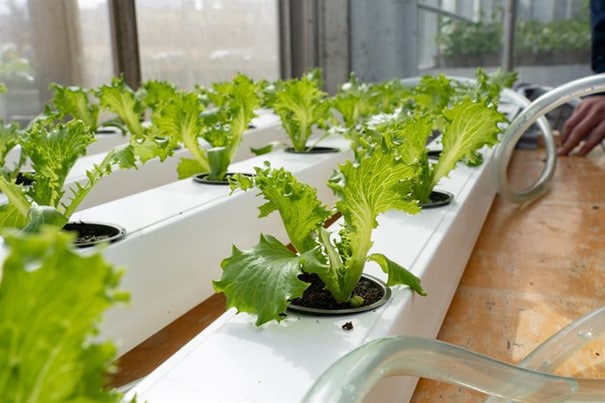 Salad experiment
Project manager Mariann Hovin at Mære agricultural school believes the collaborative project can help make blue-green collaboration even more relevant.
- There has been talk of a blue-green segment for the past ten years, but it may not have happened all over the world. So we hope this can make a difference, she says.
As part of the blue-green project, an experiment with aquaponics has been set up in the greenhouse at the agricultural school in Steinkjer.
This is a small ecosystem that produces zero emissions. In this facility, feed residues and fish excrement are composted. The plants then receive nitrogen, phosphorus and other important nutrients.
Tests and sampling
In a corner of the greenhouse, lettuce is grown in four different types of water. Continuous samples are taken of the water to be analyzed to find the content of nutrients and heavy metals. You will then look at how this affects the plants.
Both schools facilitate the trial and testing of new products. Mære has leased a test facility to Nord University, so that they have been able to test concentrates where kelp is included as an ingredient in concentrates. - The research project will continue in autumn 2022. This is exciting research to be able to contribute to, says Mariann Hovin.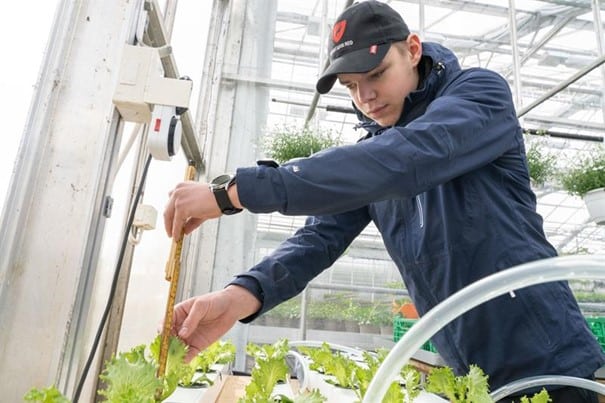 Will build RAS facility
Both Mære and Val are similar in that they both work a lot with development. In connection with the ongoing project, there has also been investment in equipment that the students will benefit from. A lot of equipment has been invested in, among other things, which the students benefit from. At Val, they have, among other things, established a temperate room to be able to run insect and earthworm trials. Like Mære, they have also started aquaponic trials. They also recently completed a biochar experiment where they have had different types of biochar in pots to see how this affects growth.
The school is also investigating the possibility of building a closed breeding facility on land, a RAS facility. With such a facility, even more people will probably take an education in the farming area at the upper secondary school in Nærøysund municipality.
Important to have up-to-date knowledge
The general manager of Val R&D, Kristine Fagerland, believes that the speed of the blue-green synergies will only increase in the future.
- Here we only want to gain greater and greater speed when the ball starts rolling. We have many requests to do things in the infrastructure we have, she says. Fagerland says it is very important that Val upper secondary school is close to and facilitates this. Updated teaching and opportunities to change quickly are also important.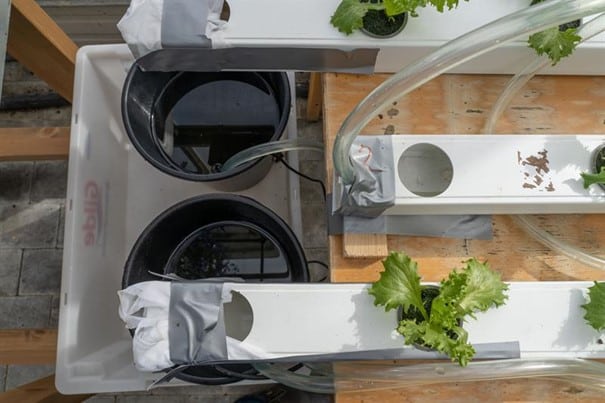 Must think differently
Iver GravåsKjesbu is a Year 2 student in agriculture and horticulture at Mære agricultural school and participates in the project. He thinks it is interesting to see what waste materials from other industries are used for. The school pupil is also concerned with the environmental aspect.
- It is a fact that we are running out of vital substances found in fertiliser, such as phosphorus. So there will probably be a greater focus on utilizing other resources we have to fertilize with in the future, he says. 
Good teamwork 
Nord University has a close collaboration with Val and Mære. Associate professor at the Faculty of Life Sciences and Aquaculture at Nord University, PrabhatKhanal, says the collaboration largely contributes to the various teaching and research activities at Nord University. In addition, it helps to develop collaborative projects within sustainability.
- Nord University, in close collaboration with Mære Landbrusskole and Leica As, has successfully carried out feeding trials on cows using marine-based feeding resources to evaluate the impact on health and total production. The experiment will be continued to evaluate the impact on methane emissions from cows, says Khanal.
Play each other good
The collaboration between the schools in Steinkjer and Nærøysund is also important for lifting Trøndelag.
- After all, we work for the blue-green industries and for teaching to improve. I think we do that best together. Playing off each other and making the infrastructure available for the various schools makes teaching better. Playing each other well is very important in this collaboration, says Fagerland.
Mariann Hovin at Mære agricultural school agrees. She says the collaboration with Val has meant that they have raised their sights and have been challenged on their mindset.
- We have learned an incredible amount from Val upper secondary school and also made many new contacts, she says.
FACTS
Blue-green innovation project
In the Storting's consideration of the revised national budget 2021, the Ministry of Agriculture and Food (LMD) awarded a grant of NOK 2 million to develop the collaboration between Mære landbruksskole and Val school and their work to identify and concretize blue-green synergies within the sustainable use of bioresources.
The collaboration will, among other things, establish a demonstration and R&D arena (living laboratory) for blue-green innovation and bio-based value creation.
One of the reasons why money has been given to the project is the great need to test out the many ideas and solutions that are currently offered by both Val upper secondary school and Mære agricultural school.